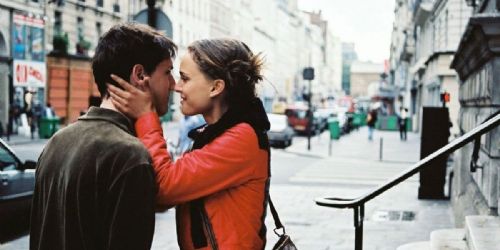 New York, I Love You is a 2008 American romantic comedy-drama anthology film consisting of eleven short films, each by a different director. The shorts all relate in some way to the subject of love, and are set among the five boroughs of New York City. The film is a sequel of sorts to the 2006 film Paris, je t'aime, which had the same structure, and is the second installment in the Cities of Love franchise, created and produced by Emmanuel Benbihy. Unlike Paris, je t'aime, the shorts of New York, I Love You all have a unifying thread, of a videographer who films the other characters.
Camille: Hey, David, it's Camille. You know, when Dostoevsky was writing The Gambler, he signed a contract with his publisher saying that he would finish it in twenty-six days, and he did it, but he had the help of this young stenographer. This girl, she... she stayed with him and she helped him. And... afterwards they actually got married. Ha, isn't that cool? That's how he met his wife. Anyway I found this story in the preface for Crime and Punishment so I was thinking that... and, this would have to be between you and me, but... I was thinking that I could read the books and tell you what's going on and that way you could just focus on your music. But only if you're comfortable with this, and if you're not then you can just forget it, and you can quit, but if you are... then open this door.
David: Open... this door?
[crawls to his front door and opens it]
Camille: Okay, a deal's a deal.
David: Does this mean we're getting married?
Camille: I have a lot of reading to do...
Camille: Hi, I'm Camille.
David: Hi, I'm David.