Mick Jagger stops in Mpls. book store
more_vert
Posted over a year ago by
Dianab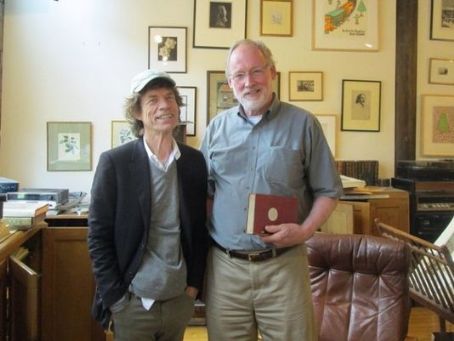 MINNEAPOLIS - Minneapolis bookseller James Laurie had seen Mick Jagger and the Rolling Stones a handful of times in his life.
Just not this close. Laurie, who owns James & Mary Laurie, Booksellers with his wife Mary, were in their store at 250 3rd Avenue North in Minneapolis Monday afternoon when they received a call from a downtown hotel, making sure they were open because a person they referred to as "A VIP" was coming in. A few minutes later they gazed out the window and saw a familiar face headed towards their door. In walked Sir Mick Jagger himself. James Laurie describes the Stones' lead singer and business mind as "a relaxed, interesting guy." The two wandered the store, talking about books, art and music. Laurie asked Jagger about Wednesday's show at TCF Bank Stadium, and whether he was worried about a forecast of rain and potential thunderstorms. Jagger assured the bookseller that he and the lads had played in the rain many times, and insisted he wasn't worried about it.
Jagger picked out some gifts for a couple of friends, which James Laurie dropped at the hotel later Monday.
Laurie says that he considers the Rolling Stones "Let it Bleed" one of the finest records of the 1960's (along with "Delaney and Bonnie on tour with Eric Clapton), and shares that he saw the band play a number of times. He is not, however, going to attend Wednesday night's show. "I'm too old for that," he laughed.
By the way, Jagger is not the first huge star who has walked through the doors of James & Mary Laurie, Booksellers. Keanu Reeves, Matt Dillon, Tori Amos and the Cohen brothers are just a few of the celebs they have done business with.
Profiles similar to Delaney and Bonnie
Profiles similar to The Rolling Stones
Profiles similar to Keanu Reeves
Profiles similar to Eric Clapton
Profiles similar to Matt Dillon
Profiles similar to Mick Jagger
Profiles similar to Tori Amos