GUITARIST CHRIS POLAND ON MEGADETH: 'WE WERE LIKE BROTHERS AND WE FOUGHT LIKE BROTHERS'
more_vert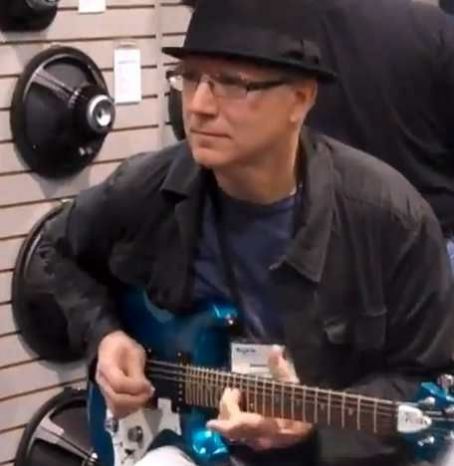 Guitarist CHRIS POLAND On MEGADETH: 'We Were Like Brothers, And We Fought Like Brothers' - Sep. 9, 2012

Brian Gold, a DJ at XtremeMetalRadio.Net, recently conducted an interview with former MEGADETH guitarist Chris Poland. A few excerpts from the chat follow below.

XtremeMetalRadio.Net: The timing that Gar [Samuelson, drums] brought to MEGADETH along with his style of drumming was special. They talked about it on VH1's MEGADETH "Behind The Music" special. That he was like a praying mantis behind the drum kit.

Chris: That's so funny that you brought that up. When Gar would play the drums, his torso never moved, but his arms and legs looked like he was a spider. [laughs] He was crazy good. I can honestly say that if Gar had not talked Dave [Mustaine, MEGADETH mainman] into shortening the song "Peace Sells", I think originally it was eight minutes long, and Gar said, you know what; this is too good of a song to drag it out like this. He said, "Let's shorten the arrangement, cut it down to size and make it a single," and Dave said, "Yeah, let's do that." If Gar had not said that, and I honestly think that Dave Mustaine respected Gar's opinion on stuff, because he was the only guy in the band who Dave wouldn't mess with. He totally respected Gar and thank god that he did that, because I don't think we would be on the phone right now.

XtremeMetalRadio.Net: I think you could tell when Dave talked on the VH1 "Behind The Music" special about Gar's passing that he was shook up talking about it. When they re-mastered the "Killing Is My Business...And Business Is Good" album and he dedicated it to the memory of Gar Samuelson... I thought that was awesome that he did that and it meant a lot to the old-school metal fans.

Chris: You know, I think so too. We had our... Let's put it this way: me and Dave, with David Ellefson and Gar, we were like brothers, and we fought like brothers. It was just the drugs that got in the way. That's all it was. Drugs, and when you get four guys in a room who all had pretty big egos about what they wanted to do, there is always that clash. I think that is what fueled the fire for that band. It was competing with the other guy and that added a little extra something that a lot of bands don't get.

XtremeMetalRadio.Net: There was definitely a special chemistry with not only the rhythm section, but the musicianship level was just incredible from all parts of that band.

Chris: You really have to give Dave [Mustaine] credit. Dave wrote a lot of the material. It came from his... He was fueled by hate for METALLICA, so that added that extra angst to what we were doing. It was perfect timing and like you said, the chemistry was right.

XtremeMetalRadio.Net: The next topic I want to touch on is the "Killing Is My Business...And Business Is Good" album. I think "Rattlehead" had your most extensive solo play of any songs on that album. I know that Kerry King [SLAYER] not long ago picked that song to play live with MEGADETH and he has raved about your playing in that song.

Chris: I got to tell you, man, I have so many stories about Kerry King. I used to work on his guitars before I even met Dave Mustaine. He would come to my house and I would mill his guitar, put a tremolo on it, set it up for him and tune it. He was kind of like a friend who would come by and I would do some work for him. That show [MEGADETH played with SLAYER] at L'Amour [in late 1984], where the audience was kind of scaring me, he lent me his amp, because we rented amps and my amp was just terrible. I said, "Kerry, let me borrow your boost pedal because I'm not going to make it." He said, "No problem, man, just take it." As far as that record... I think we made that record in less than 10 days. Our budget was so small. Karat Faye was the producer. I didn't feel like he captured the band, but I had only been in the band for like two weeks when we made that record so I felt like I wasn't sure what was happening and I did the best that I could to make it happen. It wasn't until Randy Burns ["Peace Sells" producer] came in and we made "Peace Sells" that I think MEGADETH came into its own. Not that I'm saying that the first record wasn't a great record, because it is, I just wish Randy Burns would have been there for that record.
No recent activity found.
Profiles similar to Behind the Music
Profiles similar to Gar Samuelson
Profiles similar to Dave Mustaine
Profiles similar to Dave Ellefson
Profiles similar to Chris Poland
Profiles similar to Metallica
Profiles similar to Megadeth