Gisele Bundchen's Baby Bump Airbrushed Out Of Her Latest Ad Campaign
more_vert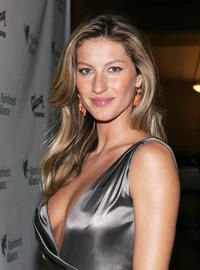 Gisele`s baby bump was airbrushed out of her latest advertising campaign. The Brazilian supermodel has so far refused to confirm reports she and her American footballer husband Tom Brady are expecting their first child together but coat company London Fog say they digitally flattened her stomach to "respect her privacy" during her pregnancy.

London Fog`s Chief Marketing Officer Dari Marder said: "Although Gisele was photographed while pregnant, most of the shots have been retouched to respect her privacy during this wonderful and personal time in her life."

"Nobody is sexier or more beautiful than Gisele Bundchen in nothing but a London Fog trench coat, even with her visible baby bump."

Gisele`s adverts for the company will be published in October, when it is rumored she will be around seven months pregnant.

Last month, it was reported the Brazilian beauty is due to give birth on December 14.

A source said: "Gisele has always wanted to be a mother, and she is deeply in love with Tom. This is the happiest she`s ever been."

Gisele, 29, recently hinted she was ready to have a baby after revealing she loves helping to care for Tom`s 21-month-old son John, from his relationship with actress Bridget Moynahan.

Gisele said: "I am crazy about children. I am an adoptive mother. I`ve already had this experience for two years."

The model has done little to dispel pregnancy rumors in recent weeks, after gracing the catwalk at Sao Paulo fashion week wearing baggy clothes.

She also appeared in a new advertising campaign for Loewe with oversized handbags hiding her stomach.

Gisele and 31-year-old Tom - who married in February - were photographed leaving a New York obstetrician`s office last month.
No recent activity found.
Profiles similar to Bridget Moynahan and Tom Brady
Profiles similar to Gisele Bundchen and Tom Brady
Profiles similar to Bridget Moynahan
Profiles similar to Gisele Bündchen
Profiles similar to Tom Brady