Chris Brown's Tarzana Home Is Robbed!!!
more_vert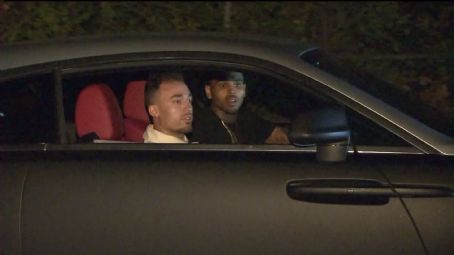 Two months after an alleged stalker broke into singer Chris Brown's Agoura Hills home, his Tarzana residence was robbed by three men allegedly armed with handguns while his aunt was home alone, police said.

The singer was not home when the men robbed the residence, located in the block of 19600 around 2 a.m., according to the Los Angeles Police Department.

Brown's aunt was home alone at the time, heard a commotion and went to the front door, police said. The perpetrators then proceeded to rob the residence.

LAPD Lt. Kirk Kelley later said it was not clear how the robbers got inside the home.

Unconfirmed reports indicated his aunt was locked in a closet during the robbery. Police said no one was injured during the incident.

The robbers were only described as three black men who were possibly wearing masks. They fled the home in an unknown direction.

Sky5 aerial footage showed the large estate was located at the top of a hill and did not appear to have nearby neighbors.

Brown arrived home around 4 a.m., video showed. He did not immediately provide a comment and it was not known what was stolen.

The singer purchased the Tarzana home in May, according to TMZ.

It was not clear if this was after his Agoura Hills home was broken into by an alleged stalker on May 2.

In the May incident, 21-year-old Amira Kodcia Ayeb was allegedly found by Brown inside his home wearing only bath towels. She was taken into custody four days after the incident and pleaded not guilty to one felony count each of first-degree residential burglary, stalking and vandalism.
Brown's Tarzana home was equipped with a 16-camera security system, TMZ reported.

It was not immediately known if the cameras were working or captured Wednesday's incident.

LAPD's Robbery-Homicide Division, which handles crimes committed against high-profile people, was investigating the incident.
No recent activity found.
Profiles similar to Chris Brown